GARAZ MAGAZINE (PL)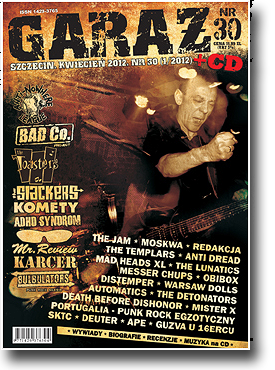 ---
>> ORIGINAL VERSION

1. The first BAD CO. Project album was believed by some to be your solo album and to be honest, the title "Sucker Stories" might have suggested that. The new full length is definitely more of a band effort, right?
Yes, that's right – the first album was actually recorded as a two-piece and not a whole band: Andy was playing drums for it and all the rest I did myself (apart from the sax), like guitars, bass, keys… When it came out a lot of people were expecting live shows as well and were asking me to get back on stage with the songs.
Andy was in for it at once and Steph from Towerblocks too, and when Marti & Billy joined us in the project the band BAD CO. was born… and although it's been a special experience to record a whole album on my own it also showed me that it's a lot more fun with a gang…!
So the main difference between "Sucker Stories" and the new "Mission Mohawk" album is that we have become a "real" band meanwhile.

2. Every band member had his share of ideas on "Mission Mohawk" - is that the reason for the album's diversity?
You've certainly came up with a nice variety of songs...
I've written all the songs on the album again, yes, and I also picked them out that way to have a mixture of different styles, anthems as well as faster ones (I can't stand records anymore that sound the same from the first song to the last…). We also had a wider range of options musically because the other band members all gave this album their personal stamp and were also throwing in some own ideas here and there, so it sounds more "alive" than the first one…
And it's the first time I'm happy with the sound, spending long nights in the studio mixing to get the result I wanted… I've got a certain taste I guess and don't like totally overproduced punk records, for me they still need to have some dirty punch to it without sounding crappy and cheap…

3. The question that need to be asked - why did it take you five years to come up with a follow up to "Sucker Stories"?
Well, as I said before – it wasn't actually planned as a band in the beginning but merely an idea to record some songs I had left from Oxymoron times and put them out. It took a while until I got off my ass in the end to get the band together.
Then we were starting to work on the live set first to be able to play shows and were not thinking about a new album at all. Since everyone of the other boys also has his own band going it's sometimes been not easy to find time to practise together, either one band was on tour themselves or another band was recording an own album…
And playing shows was our priority – to spread the word this band existed and to see how people reacted. If nobody would have been interested we'd probably have never done this album…

4. And yet apparently all the recordings went very smoothly which I believe translated somehow to the album, as "Mission Mohawk" seems to me to be really laid-back record. You've encountered no obstacles at all?
Good to hear you think so… No, basically nothing real bad happened during the studio sessions. I had made a pre-production before and we were taking our time, only doing a few days in a row over a couple of months and so it was no trouble. We had also planned it long-term not to get under pressure, because I hate nothing more than to be in a rush in a studio – although you always have it when you finally have to deliver the master...

5. Are you still being seen as a "supergroup" or has BAD CO. Project become a recognized force itself?
I don't really understand what "supergroup" means… but I guess it's an expression for the line-up being all well-known faces from the other bands they play for… right?
I'm very happy about this line-up and believe it's the best one I ever had! If it's a recognized force by itself in the meantime is up to the people to decide… but I personally think we are. It's meant to be one at least…

6. In the opening track, "From the Ashes" one can find a citation from OXYMORON's "Run from Reality"...
Is it important for you to stress that you're still continuing what you started with the former band?
It's actually kind of an intro that was supposed to create a connection with the band from whose ashes we have risen. So it seemed fitting to use these lines to prepare the listener for what to expect on the album. And I'm still doing what I started with Oxys, but wasn't meant to stress that fact… for most people I will always be the guy from Oxymoron whatever I'm gonna do in the future, and it's a part of my life that formed me a lot so I can't get rid of it anyway haha…

7. Few things about the new songs: You're on a Mission Mohawk as the title track suggests. What are the mission's objectives except for "delivering a daily dose of punk rock"?
That's the mission! The music, the message… the attempt to keep the spirit of punk rock alive and spread it the way it should be and that we have been living for so many years now, that's our mission... In a word – our lives since we got addicted to this music and became part of the movement. Well, malicious gossip also has it that it's my efforts to grow a mohawk again…

8. Lyrics I particularly find important are those of the song "Raise Your Voice" where you tackle the issue of fence-sitters, hanging around with nazis. Is that really a problem in Germany?
From our perspective it always seemed like German scene had been quite adamant toward the nazis...
Well, depends on which city and scene here – the Oi! or streetpunk scene has partially become quite desinterested in that matter, not caring about where somebody comes from at all, neither left nor right. There definitely is a so-called "grey area" scene that knows no borderline anymore and doesn't think enough about what's going on, tolerating people that should get kicked out.
But there's also the other extreme of people that even declare us as a "grey zone" band because we don't share their opinion 100 % and talk shit about everyone who doesn't… Intolerance and political inflexibility can damage the scene and cause as much trouble as the ones they're actually fighting against – so "Raise your Voice" is a call to stand up and think about the message of punk and what it was all about…

9. "Cocaine", the hidden track, is a nice successful attempt at playing more mellow songs. You seem to be one of those punk rockers who are not scared of – dare I say – ballads?
No… I'm not scared of it at all! If you're in the mood for a ballad it's just right… Motörhead have some great ballads, too, and they don't have to be cheesy in general. If you're only listening to hardcore noise and nothing else and reject any softer or more melodic tunes you're probably sixteen…

10. "Mission Mohawk" was released on three different labels - Knock Out, Joe Pogo in USA and Japan's Chaos & Anarchy / Sandinista Co. Ltd. – Do all the labels provide you with much exposure in their places?
Chaos & Anarchy is the label of Cobra's bass player Yuichi, and he's been doing a lot of promo for the album and tour – "arrigato"!
Jon from Joe Pogo is a decent guy too, who spends a lot of time and energy on his label, trying to keep the punk banner in the States flying.
Knock Out was our label with Oxymoron already so I kept loyal to Mosh.
Today every label struggles to stay alive because they don't sell many records anymore – everyone is downloading the stuff and harms the labels and bands in the end. If you want that the scene survives you have to support your bands and buy the CDs instead of stealing them from the internet - otherwise bands can't afford to put out records someday…

11. What was the most extreme experience in band's history? Touring Japan perhaps?
Sure, playing Japan with Cobra was great for us (and one of the best tours of my life because I'm also a huge fan of them for years).
So it was something very special to be on the road with them, and having the chance to do shows in the Far East certainly, too.

12. Speaking about Japan, how did you enjoy singing in Japanese on "Tribute to COBRA" compilation?
I really liked it! Yuichi sent me the lyrics and I tried to learn them, and when they were on tour in Germany I was sitting in their van singing it to him to see if I pronounce the words right… It was great fun and something I've never heard of anyone doing before.
The Japanese audience loved the song – but maybe they were just having a laugh about how it sounded to them haha…

13. You've been having some problems with Andy having his health issues and Marti dealing with depression. Is everything OK now and you would be back as a unit even stronger than before?
I hope so! Andy is fine again and I hope it never comes back. Marti is slowly getting better… We decided not to replace him for these few months he needs to recover because we're a gang and stick together. Health is more important, so we had to cancel two festivals recently... But there's already dates for next year and maybe even a tour on the US East Coast, and I'm optimistic we'll be back on our mission soon!

14. Any chance to see you live in Poland sometime soon?
Yes, we've got 2-3 shows planned in march already… Hope to see you there! Cheers!