SILENCIO TOXICO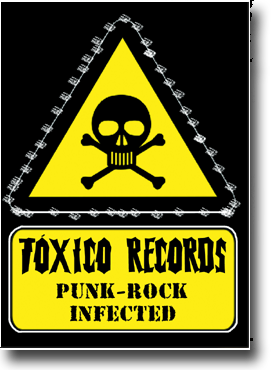 ---
ORIGINAL VERSION

Entrevista BAD CO. PROJECT (Interview with Sucker)

1. For the people that don't know it: Why did Oxymoron stop in 2002 and why was born Bad Co. Project in 2006?

Well, I guess just too many problems added together at last so we had to decide that the band was to be put on ice - our terms for saying we split up for a while at least…. we didn´t have the right line-up in the end and were fed up replacing members all the time. There´s also been arguments and different views between me and our drummer Bjoern who had always been the backbone of the band, so it seemed to be the only choice…

2. Now, in BAD CO. play Andy Laaf (Mad Sin), Martí (Oi the Arrase, Frontkick), Billy (Pokes), Steph (Towerblocks, Toxpack) - definitely a good mixture of different styles.
Is this one of the objectives of BAD CO. Project?
Did you "chose" them or were "lucky"?

Yeah, it's a great mixture… I'm very happy about this line-up and believe it's the best one I ever had! They're all excellent musicians so it's easier to work on songs with them than with some other guys I've played with in the past…
The forming of the band just happened when the first BAD CO. album "Sucker Stories" came out that a lot of people were asking for live shows. Steph from Towerblocks came up to me and said let's do it and Andy was in for it at once, too. So I asked Marti & Billy if they want to give it a try and they joined us in the project – that was the moment the band BAD CO. was born at last…

3. Can you explain us how the recording was in 2006 of "Sucker Stories"? Are all the songs yours (Sucker) left off Oxymoron?

Yes, all the songs were written by me – some were left from Oxymoron and were never recorded when the band still existed, some other songs I wrote in the time after the Oxy's split up. This album was actually not recorded as a whole band, but by Andy who was playing drums and me doing all the rest (apart from the sax) like guitars, bass, keys…

4. Did the last album "Mission Mohawk" get favorable reception? Which album do the people prefer, the last or the first?
Do you think is the same line-style of "Sucker Stories" or even of the last LP's of Oxymoron?

Yeah, it got a great feedback in the scene, although I think there's still many people that don't even know BAD CO. Project exist as a successor of Oxymoron…
It got a better feedback than "Sucker Stories" and I personally think it's the better album… There's some good songs on the first one, too, like "All U Kids", "10 Years on", "Crossfire" & "Can't keep us Silent" but the production of "Mission Mohawk" is better and you can feel it's recorded by a whole band this time…
And yes, I think it's the same vein or style but with a musical develop-ment picking up from the last Oxymoron albums and going through both BAD CO. albums to the songs I'm writing now. It's also the first time ever that I'm quite satisfied with what it sounds like, and I spent long nights in the studio producing it… I think I've got a specific taste as far as the production goes, and if we wouldn't have had a deadline to send off the master I'd still be mixing haha…

5. Can you explain how the band creates the new songs?

Normally I'm writing all the songs and pre-produce them, which means that I record them at home at first – completely with vocals and all.
Then we play them in the practise room and every band member gives them his trademark by his own style. Sometimes the others add an idea or two, too, or we rearrange a song together… It was the same process with "Mission Mohawk".

6. On stage you are a band with a lot of attitude.
A perfect combination of melody and power.
What is the message you want to convey with your lyrics?

Thanks… Certainly the message of the lyrics is different in every song… Live the life you want to and enjoy it, fuck authorities, oppression and war, stick together and fight the real enemy… In general it's about our existance in this world, with the spirit of true punk rock keeping us alive, even if some people might say punk is dead… that's our "mission"!

7. Do you like the "word-label" STREETPUNK?

Why not? It just describes the kind of music we play I guess… I'd just call it punk though.

8. You have been recently in Spain. What do you think about Barcelona, Basque Country, Galicia…? What place do you prefer? You cannot NOT respond! Jejeje...

We always had a great experience with the Basque country and have many friends there as well... and Pacharán comes from there, one of my favourite drinks!
On this tour it was the best night in my opinion also because a lot of friends showed up, but I also had brilliant shows back with Oxymoron in Barcelona, Madrid and Vigo... so it's really hard ro say... we generally love to be in Spain (which is not Spain, I know...) anyway! You guys know how to party and we like to party a lot haha...

9. In your concerts you play songs of BAD CO. and some songs of Oxymoron. Do you do it because people want or simply because you love these songs?

It's a bit of both… Since this band comes "from the ashes of Oxymoron" people also want to hear some Oxy songs, that's obvious – and as long as there is no chance to see Oxymoron live on stage again we can give them the opportunity to get an idea at least what Oxy's were like… Some of the Oxy songs I still like a lot, too…

10. On your last tour you explained us clearly that PUNK-ROCK is ANTIFASCIST and ANTIRACIST, in the dedication of the song "Raise your voice".
Is Nazism-fascism still a problem in your country? And in the punk rock scene?

Especially in the Oi!/streetpunk scene in Germany people have partially become quite disillusioned and annoyed by politics in general – some to a point that they do not even care about it anymore whether a band for example comes from a right wing background. The line between what's okay and what's not seems to be fading nowadays (again) and we definitely have a so-called "grey area" zone that tolerates people that would have get kicked out of the scene years ago… so "Raise your Voice" is kind of our answer to what's going on…
On the other hand there's also trouble with some extremely narrow-minded groups that pretend to be left wing and destroy a lot in the movement by attacking the wrong ones instead of picking those who are the real problem. Believe it or not – we got branded a "grey zone" band by them, too! What the hell… People should start thinking again and make a stand what punk was all about… and antifacism & antiracism were always part of it!

11. Related to the previous question, what do you think that within the skinhead movement there are people who are considered "ambiguous"?

Yes, certainly there are… that's what I've just said. And it's hard to believe that some bands in Germany have such a huge following although they spread very dubious opinions…
Switch on your fucking brains!

12. Oxymoron always been a group that really liked both the skins and punks. Is it the same with BAD CO.? Do you like this?

Yes, it's similar and I like it… we have both punks and skinheads at our shows, and it's going very well most of the times – I don't think we draw the skins we were just talking about, they go elsewhere!

13. Can you explain us how is it to tour with BAD CO.?
Planning, concerts, friends, fun, food…

We are doing most of the booking ourselves now, because we know a lot of people all over the world and it's so much easier to get in contact via internet than 15 years ago… but it's still hard for BAD CO. to find dates because every member is playing in at least one other band…
When we are on the road it's a lot of fun normally… especially when you meet friends at the shows that you don't see that often. Food? That varies from delicious to not edible hahaha… but more important is that there are drinks!!!

14. And something that will surely interest everyone. Will we can see Oxymoron on stage in the future? Are you just on standby? Jejeje...

I don't think Oxymoron will come together again, and I don't think there is a need for that. Now it's time for BAD CO. and I personally think it's equal at least... I rather keep writing new songs and play them on stage than to stick in the past...

15. What do you think about the old 70's and 80's bands playing together again?

Well, there's been so many "old" bands refoming in the past couple of years – almost everyone crawling out of their graves – and most of them I believe just to make some money again, not because they are really into what they are doing anymore... that won't happen to Oxymoron!

16. Oxymoron was formed in 1992 and for many years was one of the reference bands within the German punk scene.
What is the best memory with the band?

I can't really answer that... there's been so many great experiences and good memories with Oxymoron all over the years – I could write a book about it…!
Basically we were very happy about the chance that we could play abroad like in the USA and Japan and with many bands that we were fans of ourselves… Concerning the shows the most impressive were probably like those in the CBGB's, The Whiskey (LA), the Rat (Boston), Tokyo in `97, various Holidays in the Sun festivals, Astoria London in `96... it's been so many of them!

17. Do you think that people tend to "mythologize" punk bands of the '80s and '90s, and pay no attention to the new bands?

Yes, I think so! They should give the younger bands a fair chance!
Just like they should give BAD CO. a chance and not cling to Oxymoron anymore…

18. How is the underground scene in Germany nowadays?
Can you recommend us any bands?

There's still a lot of really good bands around like Fightball, Rejected Youth, Stage Bottles, The Suburbs, Droogiez, Cheap Stuff, Toxpack, Cracks'n'Scars etc. and certainly Mad Sin, Towerblocks & Frontkick… But like everywhere in the world punk rock is going down a bit at the moment - less people coming to the shows and buying records…
Maybe it's just another phase, and in two or three years the scene is booming again, who knows? Right now it's pretty hard for bands as well as labels or promoters…

19. You play in many of the most important festivals of punkrock. Do you prefer this type of event or small, sweaty clubs?

I like it both because it's two different kinds of shows. Big festivals or big venues have a flair of their own just like small clubs.
Most important is the feedback you get. So you can have a great athmosphere with 50 kids in a stinky pub and feel lost on stage with some thousand in front of you as well as the other way round.

20. Related to the previous question (the "big" festivals) - are you able to say which bands are the most popular bands?
Are the "most important-popular bands" often those that are more "shit"?

Sometimes they are, yes… but not generally. In the mainstream music business there's a lot of shitty bands anyway that are casted or created artificially by the music industry…
When it comes down to punkrock it would be Rancid and Cock Sparrer at the moment. But I think the scene has no more headliners left for the next few years because they almost "used" them all… Which means we are back to the fact that it will not be the old "heroes" that can help punk survive but the new bands…

21. What can you tell us about your tour in Japan with Cobra (the best, the worst…)? How about PUNK in Japan? It's different?

Touring Japan and playing with Cobra was amazing for us, and we had a great time with them. For me personally it was something very special to be on the road with them because it's one of my favourite bands for years, so it was probably one of the tours I enjoyed most in my whole life...
The Japanese people treated us so well and we made a lot of new friends. The worst thing about the tour was the tsunami that hit the country a week after we were back – it destroyed a town we had played ten days before completely and we were fearing for our mates there… but as far as we know nobody got harmed seriously.
Well, compared with our last tour there with Oxymoron it seemed that punk rock is less "popular" now and the shows were smaller, same like everywhere… But Japanese punks have definitely the longest spikes and mohawks! And they have an own scene that almost nobody in Europe knows about, with a load of good bands, clubs etc.

22. We know that you have many friends in Spain. What bands do you like?

I like a lot of "old" bands from Spain like Commando 9mm, Iskanbila, Kortatu, La Polla Records, Suburban Rebels just to name a few… but also bands that are around today for example Segismundo Toxicomano, Dirty Brothers, Deskontrol, 13 Bats, Anti Patiks and Secret Army!

23. A few years ago you worked with Sikotiko for some songs, the band in which played Luis, Txuxo… How that opportunity?

Well, I knew Luis from various tours in Spain and when he wrote me if I would come over for a few days to Madrid and sing a song or two I said yes… Potenial Hardcore, who were putting out the record, arranged everything with the flight and so it just happened…

24. What is the difference of a concert of Oxymoron and BAD CO.?

The money we get paid and how many people turn up hahaha…
Honestly, I can't say anything about that, because it's different times – and I don't know what a Oxymoron show would be like today…

25. In which country do the people want more BAD CO. Project?
In which do you feel most comfortable?

Hard to say… I think Spain likes us, eh? We also had great shows in Germany, Poland and Japan… Soon we will have a show in Italy… Would be interesting what it was like in the USA, because for Oxymoron I guess it was the best place to play – but we've not been there yet …

26. Which are your next plans? And Oxymoron...???

With Oxymoron there is no plans... I'd have enough songs together for a new album, and we have some offers like to play Jakarta (Indonesia!) and a big festival on the East Coast which would be amazing...
Let's see what's coming next... maybe first get through 2012...?!?

27. Can you answer shortly to these questions, please?
- The best album of Bad Co.?
The next one haha...
- The best album of Oxymoron?
Feed the Breed (you have to listen to it a couple of times...)
- The best band of Germany?
Extrabreit (for me)
- The worst band of Germany?
Freiwild...???
- Your best tour?
USA 1999 + 2000 and Japan 2011
- Punk-rock-streetpunk-Oi?
Punk...

28. Thank you very much for the interview. We are really waiting to see you around soon. Feel free to add whatever you want to: maybe a funny anecdote?

Thank you!
A funny anecdote? Okay… I can recall some story from our US tour with the Dropkick Murphys, when we were getting "hunted" by the FBI from San Fransisco all the way up to Oregon for over a thousand miles... because we were accused of beating up and robbing some black guy and slitting a swastika on his breast… total bullshit!
But the cops had picked up the information that Oxymoron – a band from Germany – had been playing in town, so we were apparently kind of suspicious for them…You understand? Germans and swastikas…
We all got questioned by them separatedly and in the end they seemed to believe us that we had nothing to do with it. But it was some agitation I can tell you...!
Alright, we hope to be back to Spain soon… thanks to everybody who came to the shows! Salud!