STUDDED GANG (Brazil)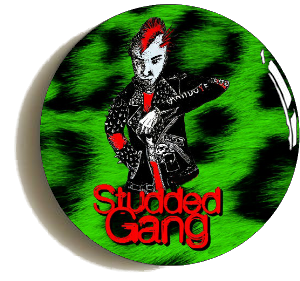 ---
ORIGINAL VERSION

(Interview with Sucker)

Thank you very much for the interview, Sucker.
I would like to start asking what was the thing that got you into punk. There was a big scene going on or there was any special band that brought you to all this madness?

Well, when I was a kid of about fourteen I listened to music a lot already... and some older friends of mine were into that crossover thing and hardcore, which was quite new back in the late 80's... so I finally got some punk rock records into my hands as well, and I instantly loved this kind of sound, the attitude, the style... everything about it!
It was at a time when not many real punk bands were around anymore, the first and second shock wave of punk already over... but a few still existed. But I didn't care if it was the right time for it or not, so I got my first mohawk with fifteen and kept it for about fifteen years more... (before I got too lazy for spiking it, to be honest...)

You always wanted to have a band or it was something that came along with the love for punk rock?

It came along but I actually wanted to play in a band, so a few years later I decided to found a band of my own because me and my friends wanted to play that kind of music, even if nobody seemed interested in it anymore... Best idea I had in my life I guess...

Talking about OXYMORON now, how was to be in a punk rock band back on the beggining?

There was no internet for planning tours or spread your music around the globe. No, there was nothing like that...! We had a few printed fanzines in the scene back then, done by people who wanted to keep the movement alive, which you bought at shows for small money (to cover some printing costs at least). So kids were informed about what was going on in other cities (or other countries), could find out about new bands and read reviews about new records... And that was like people came to know about Oxymoron in the first place - we received some great reviews for our first releases, and so first local and later international promoters got in touch with us and offered us some decent shows and tours, playing to bigger crowds and in other countries...
That was how punk rock was working back then. We got real letters from everywhere, even abroad... and that was how we got in touch with the first record labels, too - via mail. Nowadays everything's a lot easier. People probably can't imagine how it was to correspond worldwide without the internet at all...

Some brazilian punks say that the look of a studded belt with braces is "OXYMORON Style". Do you agree with that? Was it any shocking or new for punks when you started to do that?
Was there already an Oi! scene with punks and skins?

Really? Hahaha... I didn't know that!
Apparently I just liked that fusion, wearing kind of a skinhead-punkrocker mixture of clothes... But you're probably right - in those days kids normally didn't mix the styles... 
I don't think it was shocking for anyone though, at best some people were wondering about my strange outfit... *lol* Skunk is what I'd call it, like the word used for the music of bands like Blitz with skin and punk members... and the scene was indeed getting more like a crucible or a pool where both fractions went to shows and were hanging out together. Politics wasn't such a big problem yet...

In Brazil the street punk/Oi! scene is getting bigger but there still some animosity between some punks and skins. As the conservatism grows around the world, the Oi! scene seems to become pretty tolerant with nationalists and fascists. Meanwhile, some punk bands have to say that they stand for the most obvious thing: They are Anti-racism and Anti-fascism.
Do you have something similar going on in Germany right now? 
What are your thoughts on that?

For me it's totally normal to be anti-racist and anti-fascist as a punk rocker... because punk was meant to be against leaders in general and the upper class, that pulls the strings, not against others due to a different skin colour...
Well, that doesn't mean I'm automatically PC for some narrow-minded left wing idiots who behave the same way nazis do - being as ignorant as they are and thinking they have the only opinion that counts, too... the world is not only black and white, that would be too easy and convenient and that's not how it works! You have to see the whole cake and not just the slice on your own plate...
But you also have to draw a line between people you can live with concerning their views etc. and people you cannot tolerate at all. In Germany it's the same tendencies, especially since a lot of refugees are flooding Europe - many people are afraid these "strangers" will eat their piece of cake, so the nationalists are gaining ground again. They should be ashamed if you ask me, because they're only looking what's on their own plate, not if anybody else has a plate at all...
In the Oi! scene it's been a couple of years ago when suddenly right wing "skins" appeared to infiltrate it once again. We have to keep our eyes open and react if there is a reason, and that is what promoters have to do as well, to make sure certain people don't get in at shows for example. As I said before it's not easy - so while I do agree that it's necessary to kick the nazi scum out of our scene, there's these "pc people" that declared us a "grey zone" band because we didn't fit into their political views either... you can't win!

OXYMORON disbanded in 2002 and the first album by BAD CO. Project only came up in 2006. You were doing something connected with music on this big gap?

First of all I really needed a break and some time to figure out what happened and why... suddenly being without the band was a big switch for me after ten years of touring etc. so it took a while to recover. When I was ready for more music I started writing songs again - most of which appeared on the first BAD CO. album only four years after Oxy's split up, so it wasn't a real big gap in between... was it?

Was any hard to break the routine of being "a guy from a band" for such a long period? No rehearsal, no gigs...

Yes, I have to admit it was... yet even harder than this was for me that there was no audience anymore - nobody who tells you that you're doing something well...
And yes... for some time I had kind of an identity crisis to be honest, feeling useless in a certain way, because nothing I did gave me the same satisfaction, nor similar feedback - it felt like something was missing...!

We know you're also an artist with an unique and skilled style of drawing. When your drawing impulse arose? Did you draw all of your life? Where people can find your arts?

I used to draw a lot when I was younger - actually as long as I can remember... When we were busy with the band and on the road a lot there was just not enough time and I had other priorities with the music. I started again after Oxymoron's split when I tried to make a living off graphic design and was getting more into artwork & comic style once again.
I've done covers, booklets, posters etc. for a lot of bands (Mad Sin, Bonecrusher, Pistol Grip, Towerblocks, The Gonads etc.) and for a few years there's been a couple of record labels I worked for on a regular basis, but now most of them don't exist anymore (thanks to the download mania)...

Are you connected with any record label in Germany or abroad? If so, tell us how is the work of picking bands. 

With Oxymoron we had a close relationship with Knock Out Recs. which was one of the best punk & Oi! labels for many years (and put out all our albums), also with GMM in the USA (Mark Noah's from the Anti Heros) and Helen of Oi! Recs. (in the first few years) - and none of them is around anymore today... There's been many others I was in contact with and know personally, but nowadays it's totally different since only a few active labels are left that still put out records at all. Times changed a lot - bands just upload their songs on youtube and most kids don't buy CDs or vinyl anyway, so labels aren't as important as twenty years ago... 
In Germany my favourite label at the moment (that Bad Co. also work with) is Contra Recs. because they're good people with a real punkrock heart. These guys just release every band they like and can afford to press and support the scene.

Talking about BAD CO. Project, I read that on the first album you basically recorded all the instruments (except for drums and keyboards), and after that, some friends from other bands came along to form the band. It is too difficult to find people who really want to be in a punk rock band nowadays? 

No, it wasn't hard to find the proper members at all. Berlin is still a punkrock city with many bands around, and you know a shitload of musicians playing for one of them if you live here...
Bad Co. still has the same line-up from the very beginning except one guitarist we had to substitute because our old one moved back to Spain where he originally came from. Yeah, it's gotta be like a gang if you ask me - otherwise the band can't be credible and convincing... 
When we recorded the first album the actual idea was only to do an album with the songs I still had in storage, not to play live. It was easier to do it as a two-piece, so I asked Andy (our drummer) if he would play with me, and he was in for it immediately.
Yes, it's right that I've done all the rest (except sax) in the studio. This experience was definately worth it, but I realized at the same time that it doesn't feel like a real band if you play everything yourself.
Since people were asking for shows when 'Sucker Stories' came out I decided to gather some friends that are good musicians, too, and form the band we are now, not a "project " any longer... 

Sucker Stories and Mission Mohawk are two great albums. Do you think you reached exactly the sound you wanted with the band?

I guess you almost never exactly get the sound want, not if you put the level you want to achieve very high, and I do that... never satisfied until it's very close to perfect, so trying to get as close to your expectations as possible. But Mission Mohawk at least is basically pretty much what I wanted it to sound like.

I saw some footage of a BAD CO. gig and you still play some songs from OXYMORON live. There is one special that makes the crowd to go crazy? What's you favorite to perform by the way?

Yes, we always play a couple of Oxy songs live - people want to hear them, so why not...? But we decided that the majority of songs always has to be Bad Co. songs, since we don't want to be a cover band...It's great to see the crowd go crazy on every song, but it's even better to notice that the Bad Co. songs get more and more the same response like the old ones...
Some favourites of mine at the moment are All U Kids, Mission Mohawk or Life's Bitch... but we try to change the setlist regularly.

A lot of bands say great things about the South East Asian (Indonesia, Malaysia etc.) punk scene.
Do you know anything about it?

Just a little bit  - I'm in touch with a couple of Indonesian bands for example (e.g. Error Crew) that I know for many years already, and met some if them in Jakarta when I was there for honeymoon with my wife... it would be awesone to play there some day, but I guess it's too expensive for promoters there to cover the travel costs...

You have already toured far away from Germany to lands with totaly different culture from european.
Do you have some vivid moments to remember when you had some¨cultural shock¨ or something that impressed you?
Did you have time to discover the countries while touring?

We never had really much time to see anything else from the countries we toured than venues, bars and clubs... Sometimes we could use the opportunity on an offday though, and that was always worth it... like some canyon trip in the USA or the Red Square in Moscow...
The only real cultural shock was the first time in Japan so far, just because it's totally different in every aspect of life - most impressing was the way people there were dealing with each other, with much more respect than in western countries... I had the impression it's a lot less violent and haven't had the feeling of being in danger at all in Tokyo (the biggest city in the world), like the opposite to places in Germany or America. Some people at the shows were wearing these white masks you might know from hospitals and I wondered if they were afraid of getting infected by something - in the end I found out it's not to protect themselves but they were a little sick and just didn't want to infect others...

How would you estimate punk movement nowadays, comparing with early years? Is it active enough, developing or breaking? Would you like it to be changed in some aspects?

I think worldwide it's still alive, but it's declining in the countries where it actually came from or started, like the UK, Germany or the US - on the other hand it's much bigger now in other countries like South East Asia.
It's always been up and down here, too, so maybe in a few years it's gonna be strong again in Europe... 
In the early years here it was harder,  you had to fight for being a punk and always got into trouble - with disco kids, the police, other subcultures...
Nowadays you can walk down the street with a mohawk and it's kind of part of the city view, nobody is really shocked anymore, which is a lot different and more easy to dress up like this. Still it's great to see there's new bands forming and kids keeping the spirit alive...
Punk's not dead yet!!!

What's your favorite band at the moment and your all time favorite?

At the moment my faves from the newer bands are Arkada Social (basque country), Sniper 66 (US), Lion's Law (F), Agitators (Rus), Baboon Show (Sweden) and a few more... My all time faves would probably be the Exploited (Wattie's really a decent guy), Cobra (from Japan - we toured there together in 2011 and they are all great people), Motörhead (RIP Lemmy), Blitz (RIP Nidge)... maybe Extrabreit (from Germany - "Superheroes" is a cover version, theirs is the original...) and definately KISS (but ONLY music-wise...!)

Which band was the best one to share stage as a fan with for you?

Cobra.

When we will hear more of your 'Sucker stories'...?
New record by BAD CO. to be recorded soon?

It's already pre-recorded, so I've got enough songs written for at least one more album now...
We plan to start working on the material soon and hopefully get the first songs recorded this winter... but we're lazy cunts and not in a hurry, so let's see what happens...

You've been saying in some interviews that the punk scene became smaller in traditional countries like the U.S.A. and Japan. There's still some different countries that you want to visit with BAD CO.?
Have you ever been invited to play in Brazil or South America? 

No, I've never been there... It's a real pity because just before we stopped playing with OXYs we had an offer for a tour in Brazil & Mexico (if I still get that right...) so it was bad timing! But I'd love to play there with Bad Co. Project...!!!
As far as I know from Wattie, Colin from GBH and various others who've been there it gotta be a blast... huge audience and very appreciating crowds... you agree haha???

Do you know any punk rock band from Brazil?

Garotos Podres... we even played with them in the very early 90's in Germany, on one of our very first tours... And I got a CD of The Flicts - they're both great bands!

We are preparing this special article about funny stories of punk rockers playing really drunk or hammered. Do you have any to share with us? Feel free to answer or not...

Too many stories like that jajaja... just a very short one: I fell down the whole stairs of a venue in NYC after the show and was unconscious for a while - it wasn't at CBGB's but still some place in Manhattan...
And once I fell on stage Spain, really drunk, hit my head at some drum hardware and was bleeding like a motherfucker without realizing it, so I played on for the rest of our set... As soon as I was off stage some guys grabbed me and took me to the emergency of the local hospital where I got about 7 stitches, still not knowing why I was there in the first place...

We would like to say thank you so much for your time, Sir!
Send a message for brazilians fans or any punk rock kid around the world who wants to start a band.

Just do it! But be yourself and don't try to copy nobody so don't be a clone of someone else... only if it's coming straight from your heart you will achieve anything real and people can believe in what you're doing... and ENJOY!!!
Cheers a lot!